For a Smart List's filtering options, could you add a "This week" time period please, to filter scheduled tasks (i.e. Sunday to Saturday, no matter what day today is)?
I set up to use 'Today' & 'Week' smart lists, to see counts of all remaining items today & this week.
For "today", this works perfectly. However, for my "week" smart list, the existing filtering options of "within 7 days" or "within 1 week" cause an incorrect count of remaining items for this week and cause the list view of all items to include undesired items, that aren't within this week's Sun-Sat.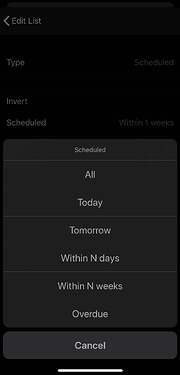 (A "This month" option might also be useful for some people, but "This week" is all I need.)