eyJkZXN0cnVjdGl2ZUNvbG9yIjoiezEuMCwgMCwgMCwgMS4wfSIsInN1YlRleHRDb2xvciI6InswLjUxOCwgMC41MTgsIDAuNTE4LCAxLjAwMH0iLCJzYW1lQ29sb3JlZExpc3RzIjoiMCIsInN1YkJhY2tncm91bmRCb3JkZXJDb2xvciI6InswLjkyNSwgMC45MjUsIDAuOTI1LCAxLjB9IiwibmVlZEJvcmRlckFkanVzdG1lbnRzIjoiMSIsImhpZ2hsaWdodFRpdGxlQ29sb3IiOiJ7MC4wMDAsIDAuMDAwLCAwLjAwMCwgMS4wMDB9IiwidmVyc2lvbiI6IjEiLCJuYXZpZ2F0aW9uVGl0bGVDb2xvciI6InsxLjAwMCwgMS4wMDAsIDEuMDAwLCAxLjAwMH0iLCJuYXZpZ2F0aW9uQmFja2dyb3VuZENvbG9yIjoiezAuNDc1LCAwLjU1MywgMC42MjQsIDEuMDAwfSIsImlzU3RhdHVzQmFyTGlnaHQiOiIwIiwiYmFja2dyb3VuZENvbG9yIjoiezEuMCwgMS4wLCAxLjAsIDEuMH0iLCJ0b29sYmFyQmFja2dyb3VuZENvbG9yIjoiezAuNTAyLCAwLjYxNiwgMC43MTgsIDEuMDAwfSIsImNlbGxTdWJUZXh0Q29sb3IiOiJ7MC4zOTIsIDAuNDgyLCAwLjU2NSwgMS4wMDB9IiwiaGlnaGxpZ2h0U2VjdGlvbkNvbG9yIjoiezAuODI0LCAwLjg0NywgMC44NjMsIDEuMDAwfSIsImhpZ2hsaWdodFNlY3Rpb25UaXRsZUNvbG9yIjoiezAuMDAwLCAwLjAwMCwgMC4wMDAsIDEuMDAwfSIsImdyb3VwQmFja2dyb3VuZENvbG9yIjoiezAuOTgsIDAuOTgsIDAuOTgsIDEuMH0iLCJ0aXRsZSI6Ikdvb2QyRG8iLCJkYXJrQmFja2dyb3VuZFRleHRDb2xvciI6InsxLjAwMCwgMS4wMDAsIDEuMDAwLCAxLjAwMH0iLCJwYW5lQm9yZGVyQ29sb3IiOiJ7MC4zOTIsIDAuNDgyLCAwLjU2NSwgMS4wMDB9IiwicGFnZUluZGljYXRvckNvbG9yIjoiezAuMzkyLCAwLjQ4MiwgMC41NjUsIDEuMDAwfSIsImxvd1ByaW9yaXR5Q29sb3IiOiJ7MS4wLCAwLjUsIDAsIDEuMH0iLCJidXR0b25UaW50Q29sb3IiOiJ7MC4zOTIsIDAuNDgyLCAwLjU2NSwgMS4wMDB9IiwicGFnZUluZGljYXRvclN1YkNvbG9yIjoiezAuNzU3LCAwLjMxMCwgMC4yNTUsIDEuMDAwfSIsIm5hdmlnYXRpb25UaW50Q29sb3IiOiJ7MS4wMDAsIDEuMDAwLCAxLjAwMCwgMS4wMDB9IiwicmVmcmVzaENvbnRyb2xDb2xvciI6InswLjM5MiwgMC40ODIsIDAuNTY1LCAxLjAwMH0iLCJ0b2RheU51bWJlckNvbG9yIjoiezEuMCwgMS4wLCAxLjAsIDEuMH0iLCJkZWZhdWx0Q29sb3IiOiJ7MC4zOTIsIDAuNDgyLCAwLjU2NSwgMS4wMDB9IiwidXVpZCI6IkZDOTNBQTg2LTgyRTYtNEI0NS05NkU4LTcwRjlCNEFDOUNGNSIsImhpZ2hQcmlvcml0eUNvbG9yIjoiezEuMCwgMCwgMCwgMS4wfSIsInRvZGF5Q2lyY2xlQ29sb3IiOiJ7MC4zOTIsIDAuNDgyLCAwLjU2NSwgMS4wMDB9IiwiY2FyZEJhY2tncm91bmRDb2xvciI6InswLjk4LCAwLjk4LCAwLjk4LCAxLjB9Iiwia2V5Ym9hcmRBcHBlYXJhbmNlIjoiMCIsInN1YkJhY2tncm91bmREYXJrQ29sb3IiOiJ7MC45NTMsIDAuOTUzLCAwLjk1MywgMS4wfSIsIm5vdFRvZGF5Q2lyY2xlQ29sb3IiOiJ7MC45MDIsIDAuOTAyLCAwLjkwMiwgMS4wfSIsInRvb2xiYXJPblRpbnRDb2xvciI6InsxLjAwMCwgMS4wMDAsIDEuMDAwLCAxLjAwMH0iLCJtaWRQcmlvcml0eUNvbG9yIjoiezEuMCwgMC41LCAwLCAxLjB9IiwidGV4dENvbG9yIjoiezAuMDAwLCAwLjAwMCwgMC4wMDAsIDEuMDAwfSIsInRvb2xiYXJUaW50Q29sb3IiOiJ7MS4wMDAsIDEuMDAwLCAxLjAwMCwgMS4wMDB9Iiwic3ViQmFja2dyb3VuZExpdGVDb2xvciI6InswLjgyNCwgMC44NDcsIDAuODYzLCAxLjAwMH0ifQ==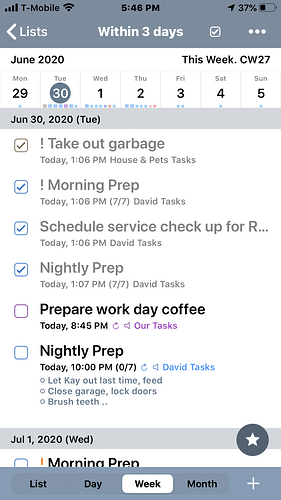 Wow! Great! I appreciate it very much. Looks awesome! Guys like you indirectly contribute to my productivity. Such as another fellow here, @Phil who made Things theme, and I can say since when I saw his theme, I got motivated to use GoodTask more, while prior to that, due its unattractive appearance, I was never wanted to use it as a my main task manager. But now, GoodTask is an integral part of my life. Anyways, that was to say that your help goes a long way​:ok_hand:t3:

I appreciate the feedback and even more the impact! It's been a struggle to find that perfect to-do app, as it often is your personal task method that makes one fit best over another. I've come back to GoodTask 3 times now, this last for the past year. Certainly the ability to customize the operation and appearance of such a tool is vital, and GoodTask does it better than any.
Again, glad you like the theme and blessings to you too!
Thanks @Mehdiem — glad you found it helpful. I use the Things 3 and the Fantastical 2 Dark Theme I made the most. Like you said, it just gives a little extra motivation to keep using it. All the best to you!