GoodTask v5.8.5 for iOS update is rolling out. It may take some time depending on App Store status. Below are details.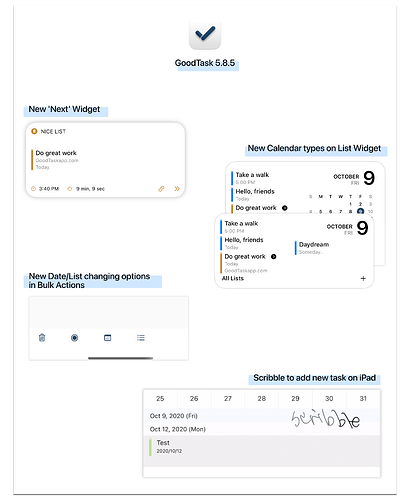 New Widget: Next Widget

This widget shows one next task from 'Next page'. You can select the list set on Next page. If there is a URL link on a task, button will appear at bottom right. Tapping task area will open task itself. Tapping other area will open 'Next page'.
If you're on focus mode, it'll show you elapsed time and started time. Also currently focusing list will show regardless of which list you've selected on the widget.

Overall Widget performance has improved a lot

Medium/Large size List Widgets need to be re-added

New Calendar type added on List Widget - (Day on Medium, Day & Month on Large)

Sync: Completed tasks option has been removed and past completed tasks are always shown with better performance

Scribble to add on iPad : You can start scribbling on 'Header' to add a new item. Values such as due date, priority, list, tags will be set to match the header.

Date picker and List change button added on Bulk Actions (iOS 14)

Bulk Actions added on Swipe action (Settings - General - Swipe Action)
& Many bugs fixed and improvements.