Hello,
I am on my way to migrate from Android to iOS for the Phones. I do have nextcloud in place to sync my tasks over all devices and it seems like GoodTask can handle the tasks and subtasks coming from Nextcloud (Synced via iOS Reminders).
According to your Documentation Subtasks are saved in notes Field:
[ ] Task 1 : Active Subtask
[x] Task 2 : Completed Subtask
As far as I can see the Tasks coming from Nextcloud Tasks are using the same Format, However GoodTasks are not showing those as Subtasks but within the notes Field (see attached screenshot). If I create a Subtasks using GoodTasks it gets shown as Subtask on Android - that works perfectly. But unfortunatelly not the other way round.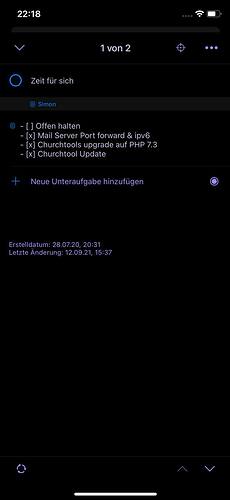 Is this a Bug in GoodTasks? Or is the format slightly different? Or do I have mistaken the GoodTasks Documentation?
Best Regards